In this article, we are going to guide you about Best PS4 Car Racing Games New List Free with Multiplayer which is very helpful for you.
This current generation of gaming has given adrenaline junkies more options than any other before it. Whether it's a futuristic speed-off or even a race on foot, there is no shortage of ways to make yourself suddenly start sweating when it's neck-and-neck on the final lap, which is what some of the best PS4 racing games are notorious for.
Without Forza to consider, this is a much more competitive and varied list than its Xbox One counterpart. We've gone for a mix of the conventional and the unique with our countdown of the best PS4 racing games with the top two certain to cause a surprise or two.
If you want to test your mettle online or fancy some friendly competition with friends when you're two sheets to the wind on a Saturday night, here's what you should be checking out.
Bear in mind that we are only including one entry per franchise, just for the sake of shining a light on some of the PS4's more obscure racing games.
List of 12 Best Free PS4 Car Racing Games:
1. ONRUSH Game
Developer: Codemasters Evo
 Publisher: Deep Silver
It's a little sad to see just how poorly Onrush performed when it was released. Perhaps it was the slightly skewiff price point or the beta's connectivity issues that turned most people away, but Onrush never particularly grabbed the attention of enough players to even make a dent in the sales charts.
A free stint on PlayStation Plus helped players to realize what a no-frills bit of fun it can be, however. Onrush isn't a racing game in the conventional sense, more so a driving game where you have to drive harder and cooler than your opponents.
Mixing elements of MotorStorm (which would do bad things for another one of those, Sony) with Burnout (you too, EA), Onrush is an adrenaline rush of simple fun delivered straight to your veins that will at least offer you a few solid hours of entertainment on your PS4.
2. TRACKMANIA TURBO
Developer: Nadeo
 Publisher: Ubisoft
Here's another PS4 racing game that had another lease of life thanks to PlayStation Plus. Those who are obsessed with realism and fine-tuning car parts like Stig's understudy need not apply here. TrackMania Turbo is just a straight-up arcade racer in all its glory and holds no pretensions of being anything much more serious.
Treating racing like a toybox for you to mess around in, TT allows you to build your tracks, which you can then share with other players to take on. This, combined with some excellent music, a robust single-player campaign, and its appealing pick-up and play nature makes TrackMania: Turbo a racing game on PS4 that you shouldn't overlook.
3. THE CREW 2
Developer: Ivory Tower
 Publisher: Ubisoft
An idea so solid that it's a wonder they've failed to nail it as they should, The Crew 2 is effectively Need For Speed meets The Cannonball Run with the dial turned up to eleven. The second entry in the franchise allows you more freedom of exploration than before, whether that's by land, sea, or air.
As polished as it may look, that's not reflected in the gameplay stakes. The driving isn't quite as beefy as satisfying as its peers, but the open world and huge amount of content mean that this is one PS4 racing game that you can dip in and out of. Shame about the customary Ubisoft cheese, though: It seems like they didn't learn their lesson from Watch Dogs 2.
4. Assetto Corsa Ultimate Edition
Developer: KUNOS-Simulazioni Srl
 Publisher: 505 Games
Kicking things off with one of the PS4's most underrated racing games, Assetto Corsa: Ultimate Edition may be one of the most detailed games of its kind, offering even the tiniest amounts of data and possible tweaks on its impressive roster of cars. It's not the most approachable racing game out there, so that may rule it out as a game to just dip in and out with friends.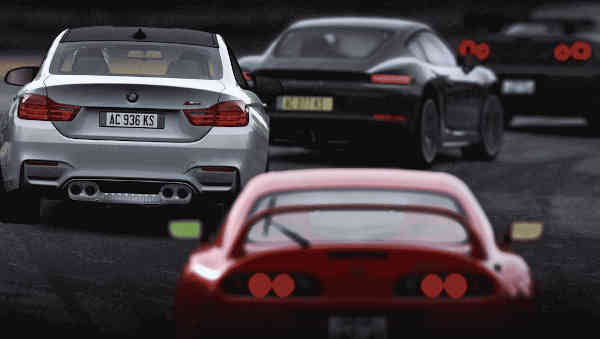 If it's pure solitary immersion you want, however, Assetto Corsa: Ultimate Edition has you covered. It's been developed with those who eat and breathe diesel in mind with its cars being as close to their real-life counterparts as possible, so this might be pure escapism if you're a passionate racer.
5. OUT
Developer: 34BigThings Srl
 Publisher: 505 Games
Time and time again, the industry has proven that if you leave a gap in the market that people are desperate to be filled, someone will swoop in and fill it. With "PS1 style" racers no longer much of a thing with most contemporary racing games favoring realism, Redout offers a refreshing throwback.
Inspired heavily by the likes of WipeOut and Rollcage, Redout is a sleek and high-octane racer that's perfect to play with a few friends, either casually or competitively. There's quite a steep learning curve if you want to become good at Redout and not just approach it as a bit of fun, so there's even something here for solo players to sink their teeth into.
6. PROJECT CARS Game PS4
Developer: Slightly Mad Studios
 Publisher: Bandai Namco
A testament to patience and understanding, Project Cars was a rough diamond at launch that, thanks to regular developer updates and tweaks, managed to buff away its coarse edges and become one of the best ps4 racing games for those who love their racing to have no frills.
Realistic and uncompromising, Project Cars strips away the guff that undermines so many racers (see: The Crew 2) and delivers a straight racing experience. Similarly to Assetto Corsa, this is a game that rewards the dedicated, though the learning curve isn't quite as punishing. It's a nice middle ground between being a straightforward racing sim and a casual experience.
7. Gran Turismo Sport: Collector's Edition
Developer: Polyphony Digital
 Publisher: SIE
Gran Turismo Sport certainly underwhelmed plenty of people when it first launched, but Sony's decision to pitch it as an online-focused racer came back to bite them. Sport has gone on to become one of the best ps4 car racing games since Polyphony including more single-player elements and a steady stream of new content.
It also feels as good to play as you would expect from a Gran Turismo game, though it does still lack the deep well of cars that its predecessors had. Its identity crisis is the only thing stopping it from being higher on this list, but make no mistake: if you want to prove you're worth online against other tempestuous racing game devotees, GT Sport could be your greatest bet.
8 DIRT 4 PS4 Split Screen
Developer: Codemasters
 Publisher: Codemasters
A game that we once erroneously referred to as the Dark Souls of racing games and ended up in a PewDiePie video for about two and a half seconds as a result, Dirt 4 is not what you would call an entirely casual experience. Rallying itself requires inch-perfect coordination, and Dirt 4 is no different.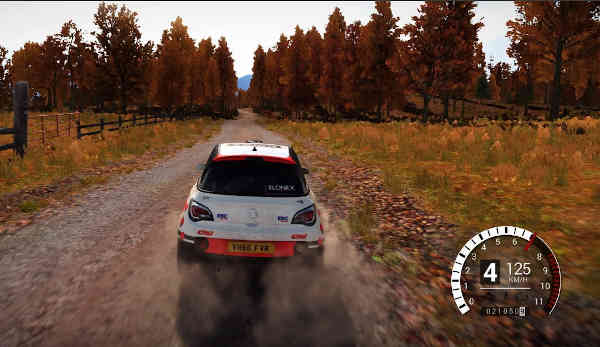 Pitched as the ultimate experience in off-road racing, Dirt 4 has a wealth of content for a relatively niche racing game, as well as offering potentially endless playtime with Your Stage. Players can create a track whenever they like and challenge themselves (and others) to beat it, and with Dirt 4 being one of the most approachable entries in the series, it may be a good entry point.
9. Burnout Paradise Remastered
Developer: Criterion
 Publisher: EA
While people may argue about Burnout even needing to be taken into the open world, there's no denying that Burnout Paradise may just be one of the most varied racing games on the market. Its remastered edition doesn't provide a massive step up over its original edition, but it's still just as irresistible as ever.
Featuring traditional races that you can either embrace or ignore, Burnout Paradise also allows players to destroy to win the day. It's not even slightly realistic and it knows it, so purists may not get a kick out of it, but the second you load the game up and hear Guns N' Roses' iconic Paradise is a moment that you will be unlikely to forget. And also destroy a street filled with innocent vehicles.
10. Wipeout Omega Collection PS4 Controls
Developer: EPOS Game Studios
 Publisher: SIE
No game reflects the "cool" of the original PlayStation quite like the WipeOut series. With the Omega Collection, Sony has gathered some of the franchise's greatest hits into a high-speed racer that's still just as dependable for the entertaining company as it was two decades ago.
PlayStation VR owners are also in for a treat with the WipeOut Omega Collection being fully playable within a headset. You'll soon discover why WipeOut inspired many imitators; only F-Zero has matched its breakneck and unrelenting pace. Hopefully, with the success the Omega Collection has had, we may see a brand new WipeOut game for the first time in half a decade.
11. SPRINT VECTOR
Developer: Survios
 Publisher: Survios
An unconventional game for an unconventional list, Sprint Vector is a PSVR racing game with the action taking place on foot. Anyone with bad memories of GTA V's Mary-Ann may instantly be put off by the concept, but don't worry: Sprint Vector is unlike anything you're likely to have played before.
An arcade racer where your arms are your "weapons", Sprint Vector is not a game for the lethargic. You need to constantly be using your upper body to swing across courses, avoid traps, and, most importantly, lose a few pounds each time you play. Sprint Vector will make you swole if you can handle it, with its swell community meaning that this is one of the PS4's most underrated but also beloved racing games.
12. Drive Club PS4 Game: 2 Players
Developer: Evolution Studios
 Publisher: SIE
We have chosen to die on this hill, and we have no regrets about it. Quite simply the most underrated racing game ever released and also one of the PS4's best exclusives that just doesn't get the love it deserves, Evolution Studios' Driveclub really could have been a Forza beater if people had just given it time to find its feet.
Driveclub is the best ps4 car racing games as it finds a comfortable middle ground between being a sim and an arcade racer, as well as having content for days at a time while still also boasting some of the most gorgeous visuals seen on the PlayStation 4. Change the weather to rain, choose Holmastad, load up your most chill Spotify playlist, and find total racing nirvana.